FRETS.COM Illustrated Glossary
---
Slightly controversial
Pinless Bridge
© Frank Ford, 9/11/98 Photos by FF

Steel string flat top guitars usually have pin bridges.


Not all manufacturers use pin bridges.

For some, it's a matter of economy. It saves some "set up" time and manufacturing cost to use a simple bridge in which the strings are simply threaded through from the back edge. That way, there are no holes to drill through the top, no pins to fit, etc.


Other builders feel that there are subtle tonal advantages to a pinless bridge design.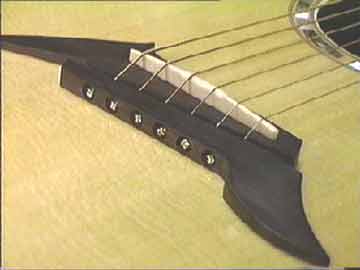 This Breedlove guitar bridge is a complex design and provides good support for the strings without the use of bridge pins.



Pin bridges are standard only on steel string guitars, so we don't even discuss bridge pins when talking about other instruments.








Back to Glossary


Back to Index Page