FRETS.COM Tips & Tricks
---
Page 1 of 2
Recycle Page
© Frank Ford, 3/15/98; Photos by FF

I'm not exactly a fiend for recycling, but there are a few little items I like to reuse in different ways.


---


Here's a good use for those old string envelopes:


I reuse those junk mail diskettes, too.




---



I save old files to grind into stout scrapers:


This big broken kitchen knife makes a super heavy duty scraper that's perfect for cleaning up the bottoms of guitar bridges for regluing.



---


I use the West System epoxy with the small dispenser pumps. Using the pumps, the smallest amount I can mix up is about one ounce. I can use the leftover epoxy for filling holes in my bench, coating clamp cauls and for a variety of other quick jobs. I'll clip the bulb off a used disposable pipette, pour it full of epoxy and stick a file tang into it. That gives my little fret file a swell little handle:

---

After each job, I look around quickly to find some place to dump that extra epoxy. If it's not a quick fill in the bench top, it's a coating on the back of clamping cauls: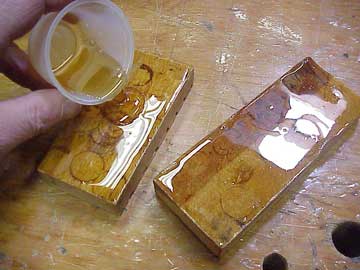 It's amazing how much longer my old cauls have lasted since I poured leftover epoxy on them.

If I don't have a tool, fixture or caul that needs epoxy, I'll fill holes in the concrete shop floor:

---


Here's another way I reuse those disposable pipettes:

I just snip off the bulb:




and I have an instant teeny little container for washing out my artist brushes: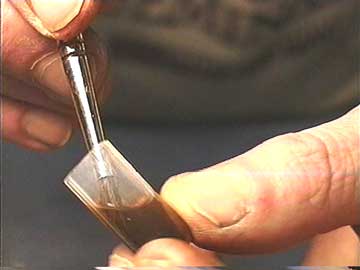 That way I don't have to waste a lot of solvent. I just clip off the bulbs before I throw out the used pipette and toss them in the drawer with my brushes.


---

This recycle tip hardly needs any words at all!



Don't forget to remove the age-date.





A great simple, disposable mixing and dispensing.
open!

More

1
2