Precision without measurement Click the small photos for a closer look
"Indexing" a Swivel Base Vise
© Frank Ford 2008; Photos by FF

"Well, you can do it the hard way or the easy way - it's your choice." That's my Grandpa speaking, and as a kid I noticed that he always seemed to have a bead on the easy way to do a small task.
"String enough little tricks together, and you have a career." That's my line and I use it twice a year when I do my introductory repair lecture at the Roberto-Venn guitar building school in Phoenix.
When I bought my little table top Rusnok mill, it came with a perfectly serviceable Palmgren vise on a swivel base. It wasn't too long before I got tired of setting the rear jaw parallel to the table after each time I'd moved the vise. So I set myself on the project, and came up with this method of indexing the vise rather precisely without any measurement at all.
First I set the base so that the markings lined up as close to ninety degrees as I could see, and locked it down.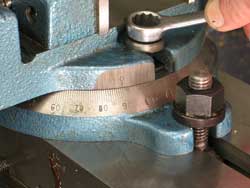 Chemist Warehouse Townsville
If you're in the market for a new health food store in Townsville, then you've probably heard of chemist warehouse townsville. This discount pharmacy offers a variety of health and beauty products as well as medical aids, confectionery, and more. Their online catalogue is always full of special offers and coupons. The store's website is also available for browsing, with ongoing sales and promotions. Chemist Warehouse is a proud member of the QCPP.
The Chemist Warehouse Townsville website features a list of products available at competitive prices. While each store has slightly different prices than the average retail pharmacy, they're often cheaper than other similar retail stores. Additionally, business hours are not always updated due to COVID-19 restrictions. It's important to check the hours of operation before you visit. If you plan on using the store during off-hours, make sure to call ahead to ensure the pharmacy is open.
To index the rotary section, I decided on some #3 steel taper pins, so I drilled and reamed for two on each side of each lock down bolt. Why four pins? Well, it just seemed like the right number considering the layout of the base.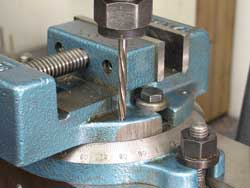 I didn't exactly plot the location for the pins, but instead made certain that they were very unevenly spaced, so there's be no possibility that I'd try to set the table the wrong way around sometime.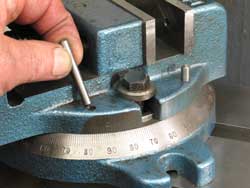 I checked under the table and marked each pin roughly with a Sharpie, so I could grind off any excess. In fact I ground the pins around 1/8" short to make sure they wouldn't interfere with the rotating clamp under the table.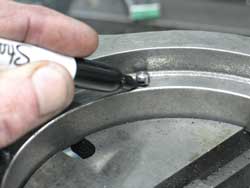 Here you can see how I oriented the pins - strictly a freehand thing. I figured that using all four pins would mean that I wouldn't have to jam them all in super tight to get a good indexing, and that they'd be easy to pull or tap out when I wanted to swivel the base.
So much for the easy part. I had my table locked and pinned right were I wanted it. Next, I set about truing up the tops of the jaws. I'd be using this piece of 1/4" x 5/8" precision ground stock as my base index because it was a perfect fit for the table T-slot, so I gripped it just below the upper edge of the vise jaws and tightened it in. The idea was to mimic the "spring" in the jaws for my subsequent operation. At this time, I took a light cut off each jaw so I'd be certain that they were the same height when my index piece was clamped in place.
I moved the index piece to a higher position so half of it protruded above the vise jaws, and tightened it in place, and unbolted the vise base from the table.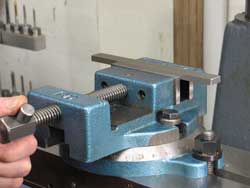 Turning the vise upside down, I stuck the index piece into the table T-slot, and clamped it to the table. It balanced very nicely right on its own jaw tops, and since I kept my clamps right in line with the T-slot, it didn't have any tendency to tip. My milling cuts would be very light, so I was confident about the rigidity of my setup.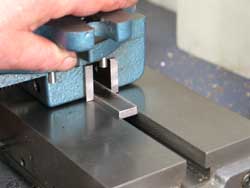 There was originally a little index slot and a pair of tapped holes in the base, so my job now was to widen them to fit my 5/8" wide index piece. Again, I skipped any measuring, this time by trial fitting a piece of the same ground steel stock as I cut my slots. Once I got a nice tight fit, my work was basically done.
I drilled and countersunk holes in the ends of my index bar, and screwed it to the base, completing the assembly.
Now, for a bit of measurement, just to check the results. Wow! I get barely .0005" total runout over the length of a 1/2" thick steel parallel. That's good enough for me, and it repeats just the same time after time.
I must admit that I did make a rather bold assumption - that the T-slot would be exactly parallel to the movement of the table. Fortunately for me, it appears to have been an accurate assumption. . .