Reviewing
"Small Shop" Tools
© Frank Ford, 2010; Photos by FF
Here are some tools I've acquired over the last few years. They're items made by smaller shops - generally not the kind of thing found in the catalogs of big tool suppliers. Partly because I make and sell a few highly specialized tools in small quantities, I like to support the individual and small groups who make such things.
I'll present them in in no particular order, starting with the ones that almost got away - a series of luthier hand planes made by Christopher Laarman:
I first saw these planes at the Healdsburg Guitar Festival a dozen or so years ago. Christopher was selling them in the guitar display room, and I bought one. They were kinda pricey, so I thought I'd get some later on, you know. My pal, Jay Hostettler of Stewart MacDonald's Guitar Shop Supply, bought a full set. I was a bit envious but I figured there always was next year.
Well, next year didn't come - the Festival became a biennial event. When the next Festival was held, Christopher wasn't there, so I called him at his studio in Oregon and asked if I could get the other planes I had put off buying. He told me he'd sold the last of them and had quit making them altogether because he was disappointed to hear that most of them went into "collections on mantle pieces" rather than being used as tools. We talked for a while, and after I told him I really liked the way they worked he said he'd polish up the last of a few castings he hadn't finished and get me the planes I wanted. This is me using the plane leveling a spruce patch, working inside a vintage 1867 Martin guitar: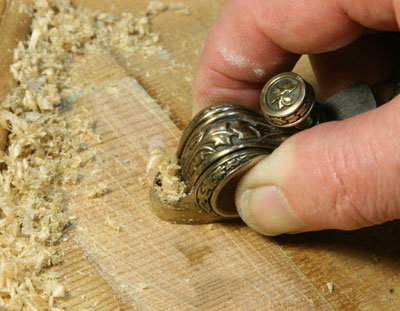 Every time I encounter a really cool tool like these planes, I immediately ask myself how I'd feel if I hesitated and missed out. So my current default is set on "buy." And that was my first impulse when I saw this cool micrometer, all done up in vintage styling:
Cool it is, and it was made using antique and vintage machine tooling, by Jeff Marcus in Great Neck, NY. His shop, Cool Weld Studios, is represented on the Web: www.coolweldstudios.com.
Often enough I've encountered guys who just don't "get" this one. The Cool Weld mic is not competing with Starrett for price and utility. It's a showpiece. When I measure the gauge of a guitar string for a customer in the shop, I often get the same kind of reaction and approval I did when I drove my vintage Metropolitan around town.
And, best of all, it's the ultimate gift for a machinist friend. Trust me - there are times when a guy needs a prezzie.
---
Next up is the useful little finger-sensitive "Hummingbird" drilling table from Jose Rivera, for delicate holes in tiny parts: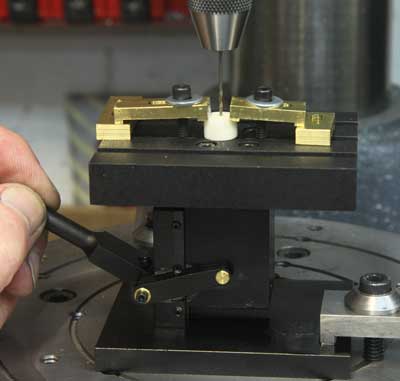 Jose makes them in his home shop in Vallejo, CA, and distributes them through Little Machine Shop, a supplier of just that, small machine tool stuff:
In the photo, I'm drilling a piece of ivory, which has a nasty tendency to gum up on small drills. With the Hummingbird, I can bounce up and down quickly and easily for hundreds of pecking cycles to clear the chips. Jose has posted a short video on YouTube.
---
Another fine item from Little Machine Shop is this radius turning tool. It's a kind of "off hours" thing made by OMW, a small CNC machine shop in Novato, CA:
It's nicely turned out, solid and stable for a lightweight tool. I've used this one for a number of years now, and it performs very well. Because it's a lightweight, I do have to be VERY slow and careful when turning steel.
This lathe accessory comes with a fine set of instructions, which, of course, I lost shortly after acquiring it. I developed my own system for its use, and if you're interested, I wrote up a description of the process: My Ball Turning Technique.
---
I don't know anything about the maker of Monster Jaws, but I have bought several sets from eBay, and I've been pleased by how inexpensive and well made they are.
Soft aluminum jaws for specialized holding jobs:
An eight-inch set of soft steel ones to extend the length:
And a super tall set to hold vertical items:

I like to give the tall ones a bit of help squeezing.
In addition to the eBay presence, there is a Web site: http://monster-jaws.com
---
There are lots of ways to do hand tapping on the mill, but this device is the first thing I reach for every time:
It's a self-centering tap wrench made by Northern Machining in Norfolk, NY, and it is so quick and easy to use.
The idea is to grip the 5/16" spigot with a collet or chuck, and tap away in perfect alignment, lowering the mill or drill press quill in increments as you go (unless you have three arms, of course) and it works quite well that way:
Here's how I cheat a bit when I use the tap handle. I use a 5/16" collet which I do not tighten with the draw bar - it's completely loose. I lower the quill all the way down until the collet is shoved way up inside:
Then I simply let the collet drop as I tap the hole - no quill adjustment needed at all:
---
From Valencia, CA, it's the Venture Quest Pro Stop:
I found this one on eBay, and that's the only contact I have for them. Their eBay seller name is "venqust1."
Quick to set up and solid - I use it for "outboard" part location almost exclusively.
---
Here's the "Follower Rest," made in a small shop in Louisiana, and once available from a Web site by the same name. Unfortunately, it appears that the site is not active, and I suppose that means the tool is no longer available. When it was first announced, the only models had dovetails cut for BXA and larger size tool posts. . It looked like such a good idea to me that I made a miniature size one after seeing photos of the big ones. As soon as it was available in my size I ordered one, and I believe I may the first one made for AXA, because there's what looks to be a serial number of "01" stamped on the end.
So I show it here so it can serve as a reminder to act on your good impulses, and to serve as a reminder that you could make up something for yourself if you want to.
As you can see, it's a pretty hefty tool for the AXA size tool post, but often enough a bit of extra mass can be a good thing for stability:
To set up, I center drill and use a standard turning tool to make an initial cut to the diameter I want on the end of my long piece of stock, and then adjust the brass follower up nice and tight against the cut surface. Then I extend the stock, bring up the tailstock center, and proceed to cut toward the headstock, nice as you please:
It sets up so quickly and easily that I haven't gotten out my lathe's "real" follow rest since I acquired the Follower Rest.
---
Jeez, here comes another one that's out of production. It's a standard tool, and perfectly good ones like it are available from lots of manufacturers. This one is the Hermann Schmidt edge finder, and it became unavailable this year. Seems it was made by an individual who quit supplying them.
Too bad - it was clearly the only thing in the Hermann Schmidt catalog I could afford! It's not a big deal, but it was the first edge finder I acquired that really jumped for me. Maybe my Starrett was sub-par, but once I got the Schmidt, I gave the Starrett away and got a second Schmidt, just in case. Seems I drop more things every year, so for a few bucks (fifty, to be more accurate) I felt I caught a bit of insurance.
The minute I had it in hand I noticed the finely lapped sliding surfaces and smooth action.
---
Made by Alphonse Diciolla in Cleveland, OH, here's the VISE ANVIL -
This one is about as simple as it could be. A big nasty slice of round steel with recesses milled for holding in a vise, it's a small anvil substitute, or "bench block," and it's pretty cool:
Made of 4340 steel, through-hardened to 38-40 RC, it resists any marking or denting from my hammer. It's 4-5/8" diameter, 1-3/4" thick, so it has enough mass to give a good bounce as I hit the work piece. I reckon that if I ever do manage to scar the face up, I can grind it and have a fresh smooth surface with very little effort, and no loss of hardness.
I have a "real" anvil, but I really do so little forging or other hammering, that I usually end up smacking things on the anvil section of my bench vise, rather than dragging out the anvil from its hiding place behind the junk in the corner. This bench block really fills a need in my shop. Sure, I could have made one easily enough, but heat treating a hunk that big would be way beyond my capability or simply too expensive. At about fifty bucks including shipping, it's less than half the minimum charge at my local steel treatment plant.
As of 4/17/2011, you can get one of these from the maker on eBay or at his Etsy store - he goes by the name AWDJR: http://www.etsy.com/shop/AWDJR?ref=seller_info He also sells on eBay, and has a YouTube video.

Back to Machining Index
<![if !supportLineBreakNewLine]>
<![endif]>



<![if !supportLineBreakNewLine]>
<![endif]>