It knocks down flying chips
Vinyl Curtain
© Frank Ford 2006; Photos by FF
Milling machines can really spit chips all over the place! I made up this simple vinyl curtain to keep the flow a bit more localized so I could sweep them up more easily: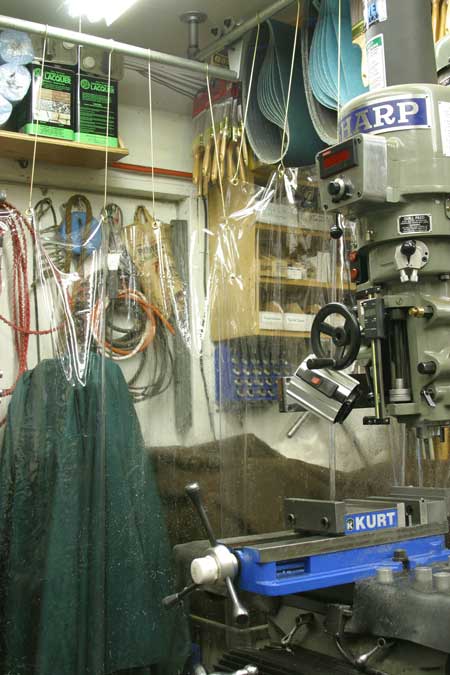 The curtain is just some clear 10 mil vinyl sheeting I got from the hardware store, and it hangs from the rails of my little chain hoist. I can unhook the curtain and remove it, or slide it to the side with I roll the hoist on its railing.
At the blue arrow, I have a pair of magnets that clip the two sections together to form a loose seal:
The key to this affair is the bunch of grommets I set in the upper edge of the curtain:
If you don't have a grommet setter, I suggest you consider getting one. You know how those cheap vinyl shower curtains ALWAYS tear at the holes where the shower curtain rings attach? Well, use your grommet setter and install grommets on your next new shower curtain, and you'll find that it lasts basically forever. A grommet setter is one of those tools you don't think you'll ever use until you have one around. You'll find yourself fixing or adjusting tarps, covers, curtains and all manner of things. I even use mine for making sandbags.