Lathe Carriage Stop
© Frank Ford 2004; Photos by FF
I'd had my new Sharp 1118H Hardinge clone for about three months when I decided to make up this pair of simple carriage stops to facilitate repetitive jobs. I had a couple of pieces of 1" x 1" brass lying around, so I milled a dovetail recess in each, cut them and ran a 3/8" bolt through the short section to draw them up tight on the dovetail way:
I had a 5/16 - 40 tap from a previous project, so I tapped the ends of the stops for an adjustable post: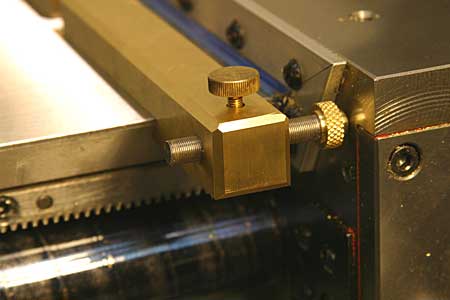 I threaded a piece of drill rod, knurled a little nut with a dome shaped end using my freehand tool rest.
And, I added a brass thumbscrew to the top to retain my adjustment screw: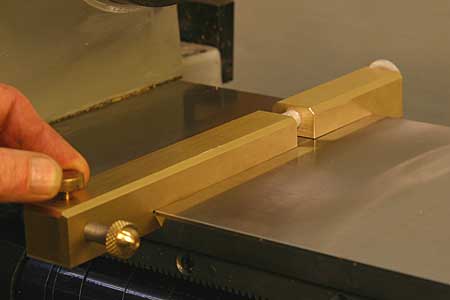 In retrospect, I wish I'd had some cold rolled steel scrap and made these guys a bit wider because the brass isn't all that grippy on the hardened steel way, but if I really crank on the central bolt, it holds tightly enough.