Lathe Centering Roller
© Frank Ford 2009; Photos by FF Click the small photos for a close view.
It's simple enough, easy to make, and works great. So, why did it take me a couple of years to get around to it?
I'd seen it on YouTube, and mentioned in metal working forums, but for some reason I never got around to making one until yesterday.
Just a piece of 1/2" square steel with a bearing mounted at each end, the tool now lives in its own quick change holder, ready for use:
The bearings are two different sizes, because those were the ones I had lying around. I mounted the larger one so it would be presented to the work with the tool oriented perpendicular to the axis of rotation:
The smaller bearing sees the work as a facing tool would:
If I have a disc I'd like to mount accurately in the chuck without having the chuck body as a reference, I simply grip it lightly in the chuck jaws, and slowly press it into alignment by moving the carriage to the left:

As soon as the bearing touches the work, it aligns the disc.
Here's the view from my "Sky Cam" overhead: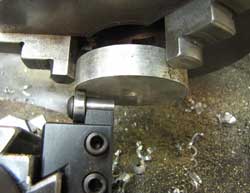 And, here's a shot of the indicator riding on the disc at 100 RPM.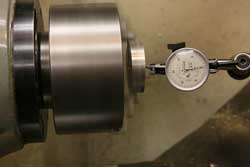 If you look closely at the indicator, you can see the blur of the needle, showing a total runout of .001"
The alignment tool works almost as easily on cylindrical stock from the side: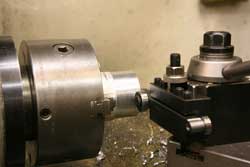 Like the example above, this is just a shorty from the scrap drawer I pulled out for the photo. I've used the tool to center long-ish stock for center drilling, and it works like a charm.
Don't wait two years to make one of these for yourself. . .