Please click on the small images to see the large views.
Lathe Drive Center
© Frank Ford, 2007; Photos by FF
Looking through a machine shop catalog, I ran across something I'd wondered about for some time. It's a "drive center" not unlike the kind of drive center used for wood turning. These things are majorly expensive, so I decided to try making one for myself. Mine is not as sophisticated as the "real thing" because the little drive pins are fixed, where the commercial drive center has self-adjusting drive pins to make certain of a good grip on uneven surfaces.
I thought I'd forgo that feature in hopes of actually getting through this project.
The catalog items I'd seen came with Morse taper shanks, and since my lathe is set up for 5C collets, it seemed natural to make it as a 5C tool. I started by setting my lathe compound to the precise angle of the 5C collet taper, using my sine fixture: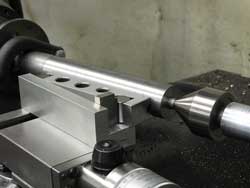 I mounted a piece of 12L14 steel between centers. It was long enough to make two complete 5C blanks. I reasoned that since I couldn't swing my compound over to the left far enough to do the taper with the fat end of the collet in a chuck, I'd better consider working between centers, and flipping the piece end-for-end as needed.
First, I turned down the ends to the final diameter of the collet: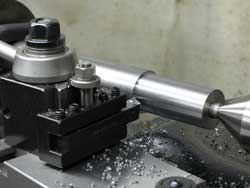 Then I turned the taper section working from the center toward the headstock: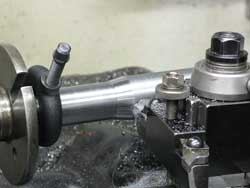 I threaded each end to fit the collet closer:
And, I grooved each end to fit the collet closer index tab:
Now I could grip the end of the rod just as if it were a regular 5C collet, and I drilled each end:
And, tapped 3/4 NF:
Over on the band saw I chopped the bar in two: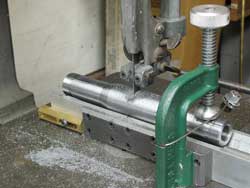 Here's my pair of 5C blanks, after facing the ends:
My next operation was to trim the length and drill for my spring-loaded center. I drilled first, and then used a parting tool to cut off the excess. Since there wasn't really going to be enough left over to make a good addition to my scrap bin, I decided to make some nice big washers to throw in the drawer for future use:
I bored the hole for my center as accurately as I could to 1/2" diameter: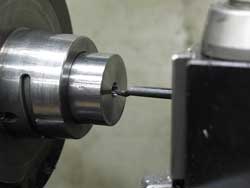 Then, I turned a center rod of W-1 drill rod, first making a 60-degree point on the end, then holding that in a cup center as I turned the shank down to be a tight sliding fit in the collet blank:
I gave the end of the center a bit of quick heat treatment by heating it to cherry red and quenching in oil. I find that quenching water-hardening steel in oil gives me good hardness for lots of uses without the bother of having to quench to file-hard in water, and then tempering it.
Here's the center rod: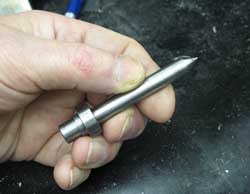 The back end is turned with a stout flange to receive the spring.
And, this is a piece of 3/4" NF threaded rod I slotted for a screwdriver blade: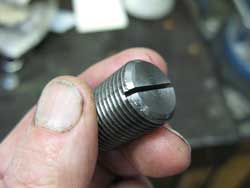 It's the spring retainer and tension adjuster.
OK, back to the 5C blank. I drilled six holes to receive the drive pins:
And, turned the end for tool clearance:
My drive pins are regular 1/8" hardened dowel pins. I'd used a 1/8" drill, so they dropped right in place with some Loctite to make sure they'd stay there: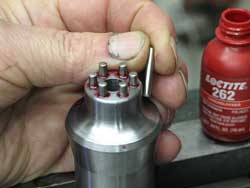 Because the thrust would be mostly straight down on the pins, I didn't worry about them working loose.
After worrying how the heck I'd get six pins in place all perfectly level and sharp, I realized I could simply glue them in, and sharpen them right where they landed. Using a regular carbide end mill and holding the piece in a hexagonal collet block, I milled off the fronts of each of the pins: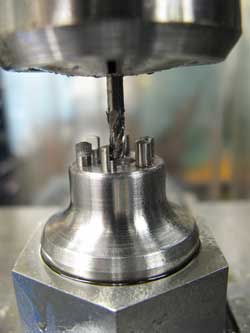 Then, in an angle vise, I milled the bevel on the back side of each pin, establishing the height in the process: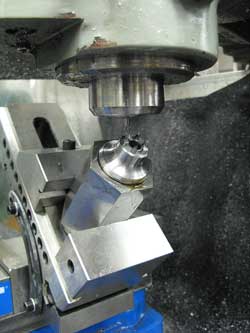 A quick touch with a diamond hone gave me six really sharp little chisel points:
In a fit of thinking too hard, I decided to nick one of the points so I'd be able to remount a piece of stock on the center with the same alignment:
ANZ Bank Near Me
Whether you're looking for a branch in a big city, or you're a suburban dweller looking for a place to bank, finding an ANZ Bank near you can be a great help. Located at 277 Park Ave. #31, New York, NY 10172, anz bank near me locations have everything you need to know about opening hours and driving directions. To find a branch near you, simply enter your address in the box provided and click on "Find a branch" to get directions and phone numbers.
One of the best features of online banking is the ability to view your entire account statement. This is far more convenient than a paper statement, and it's also more secure. Online statements allow you to view two years' worth of transaction history in one place. You can also replace a lost or stolen card or transfer money to someone else from anywhere in the world. All you need is the recipient's name and address to send money overseas.
With more than six million customers throughout Australia, ANZ is one of the largest banks in the world. It operates 800 branches, 115 business centers, 2,700 ATMs, and online and mobile banking applications. As a subsidiary of the Reserve Bank of New Zealand, ANZ provides effective support to its member banks throughout the country. These services are aimed at improving the customer experience. And ANZ is located in many major cities and states, making it easy to find a branch near you.
In New York, ANZ Bank-New York Branch has not filed labor certifications for foreign workers from fiscal years 2019 to 2021. However, the company did file an H1B visa application and a labor certification for green card workers before 2012. While this information is helpful, it doesn't mean that ANZ Bank-New York Branch hired any foreign workers. If you're looking for a job at ANZ Bank, contact the branch nearest you to find out more.
Later, I thought that was a bit antithetical to the whole "between centers" experience.
Here's the completed drive center:
In use, the center pin stick way out and catches the work piece in its center hole:
When the tailstock ram is pressed in, the center retracts, still keeping the work centered, and the six drive pins bite in, to hold the work as it's turned:
Now I can turn a bar as small as 3/4" from end to end without bumping into anything: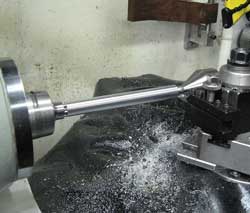 I put this center to good use when I made the bearings for the MLA filing machine. Bearing bronze is expensive, and I was glad I didn't have to waste any at all.
Here's what the work looks like after mounting and being driven by the drive center:
Because my drive pins don't float, I'll always have to be sure to face the ends before turning, but that's not much of a burden.